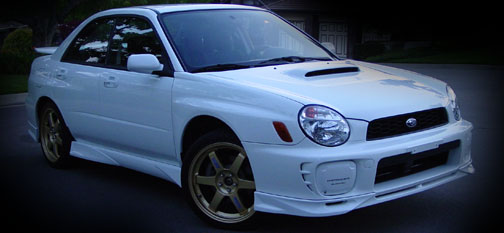 Here is a new picture of the WRX. It is still doing great now being expertly driven by my sister.
8/09/04- Alex's car is running great but not getting many miles. Her sound systems sounds great, better than mine in the STI. There are a few things I want to do to her car before it can be really called done. Put some JDM headlights on, ecutek dyno tune, and lower it a bit, then we will be set.
3/26/04- I am a little behind updating by for Xmas Alex can a brand new sound system. It was about time. We didnt even get the upgraded stock system for her car when we first got it because we were gonna get an aftermarket one. I will put some pics up soon.
6/18/03-Yes the clutch was already gone at 5000 miles. Go figure but we got a new one under warranty, yea yea!!
1/04/03- Subaru going in for servince Monday and for a clutch check. Can it be gone already at 5000miles, maybe!!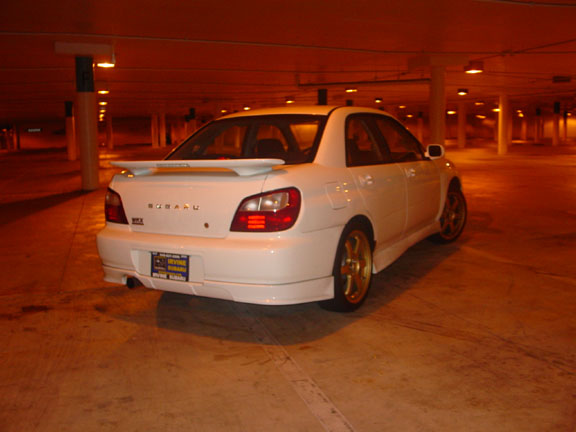 Future Dream Mods:
Cobb Accessport
what turbo?
Turbo XS Top Mount Intercooler( if necessary)
Carbon Fiber Sti Hood Scoop
650cc injectors (if necessay)
Perrin Catless Up-pipe
Syms from grill
JDM Sti projectors headlamps
Clear blinker lights or carbon fiber blinker covers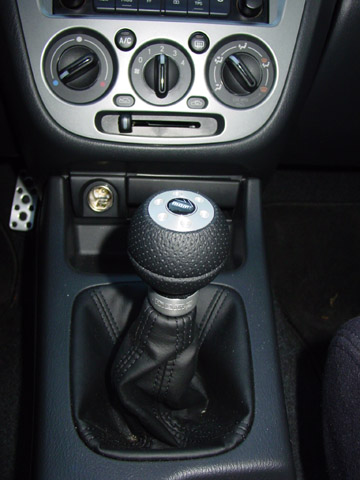 Here a pic of the new momo shift knob.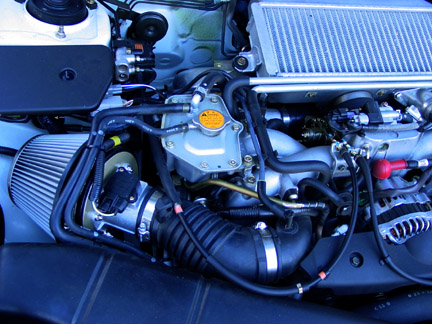 Here is a picture of the new Blitz SUS filter. It is composed to steel mesh, not cloth.
List of items ordered on REX II from factory and SPI Motorsports( Yellow items have been purchased and installed, blue items have been purchased but not installed, red are on order)
EGR full body kit
OE Wing
MRT Turbo Back Exhaust
Apex'i Turbo Timer
GFB BOV (salvaged for rex 1)
OE Boost Gauge
18" VOLK TE-37 Gold (salvaged from rex 1)
225/40-18 Toyo Proxes St-1's
jdm STI fog light covers
short shifter kit
(Premium sound was not ordered because an aftermarket sound system and subwoofer will be installed later)
Blitz SUS Filter (12/17/02)
Momo shift knob (12/17/02)
Sound System (January 04)
Sponsors at the Bottom of the Page
Best Times as of 12/11/02
0-60mph: 5.48 sec
1/4th mile: 14.17 sec Speed: 98.4mph
Kills:
1999 M3 2 door 5 speed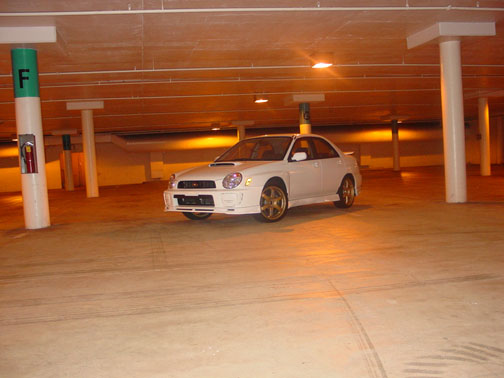 Team Girly Girl Chasing (Check this team out, got some kickin cars)
Because the WRX is a turbocharged car, there is a break in period of 1000 miles. For these 1000 miles you must remain below 4,000 rpm( thats only 1,000 rpm after the turbo spools, damn) I am going to count down the miles till we can surpass that 4,000rpm mark. This is what I will call the
COUNT DOWN TO HAULING ASS take 2
00 miles left as of 10/09/02. Mission Accomplished. Hauling Ass commenced.
The WRX was totalled on August 19th 2002. Rex Part 2, coming not so soon anymore. We will build it, better, stronger, faster than ever before. You will see. hahahaha!( You just might have to wait a while.)