Review
Ballistic: Ecks vs Sever
Release Date: Varies between Wednesday the 20th of September and Friday the 23rd.
I give this movie 5 monkeys out of a possible ten because I like action movies and this had some kick ass action.
I found out about this movie while looking through
www.apple.com 's trailer selection. It stars Lucy Lui and Antonio Banderas. It is an action movie, but it has a different look than most. It seems to have that darkness of the Matrix but it doesn't seem to be ripping off any effects. I need a movie to quench my thirst for an action movie with plenty oif guns and fighting. I think the Transporter will quench my thirst for driving sequences.
To watch the trailer go to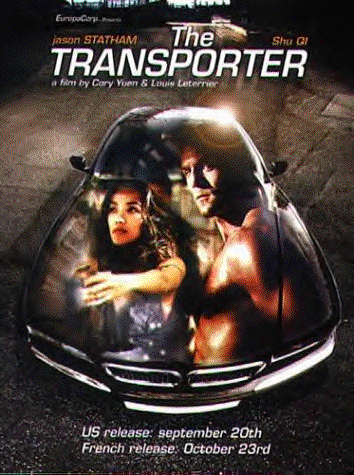 Review
Title: XXX
Release Date: August 9th, 2002
# of Monkeys (1-10, 10 being the best): 6 monkeys
Review: I knew going into this movie, it was going to be hokey, unbelievable, and a OO7 rip off, but once I just accepted those facts, I enjoyed it. Running away from an avalanche is stupid and ridiculous but it is fun to watch. The stunts are unbelievable. In a way, too good for a fiction movie. Some of the things Vin Diesel's character does to escape a situation are uneeded, but they create eye opening stunts. The girl was hot and she didn't do too bad. I mean is was a million times better than Denise Richards in The World is Not Enough, but that still isn't saying much. One way it differed from the James Bond series was the use of the car. In the recent Bond films there has been build ups to the car featured in the film but it is in the movie for 5 seconds and is either destroyed or never seen again. The GTO is used quite a bit in XXX. That
Review
Title: Signs
Release Date: August 3rd, 2002
# of Monkeys (1-10, 10 being the best): 9 monkeys
Review: I loved this movie. It was scary and suspenseful. These days with CGI and such, movies often show "the creature" too much and too soon. Signs makes you wait for it, and I am glad it did. The acting I thought was excellent. Joaquin Phoniex is excellent, and the children are great too. Go see this
Special Guest Reviews by JB
Title: The Good Girl
Release Date: August 16th, 2002
# of Monkeys (1-10, 10 being the best): 10, at least
Review by Justin Byrne
First off, Jennifer Aniston is damn hot. I mean, I would get with that you know. If I coulda been Jake Gyllenhaal for like ten minutes during that movie, I would have, even though he's an ugly son of a bitch. Anyhow, "the Good Girl" is your classic example of an excellently written and performed, high-budget, independent film. Aniston, (her character is Justine) is a 30 something southern girl who works at the local "discount rodeo" and is trapped in a dead end marriage to a stoner house painter. The first fifteen minutes are an observance of how Justine is bored of her ever-redundant life. Things heat up when she meet's Jake Gyllenhaal's character, Tom (who calls himself Holden). An affair ensues and things get pretty raunchy. The cinematography is good but wholly uninspired, the lighting and characters are realistically Texan, and the atmosphere is something that can only be achieved in an art house. While the movie may be a bit slow for some, it harbors a more than generous share of humor and melancholy. If you like a movie that isn't afraid to be brutally honest, go see "the Good Girl,"it's an excellent exercise in the way a film should be made.
Review
Spy Kids 2 Review
Spy Kids 2 is great for kids and adults. It starts out as Carmen and Guni go to a junior OSS dance party to see who gets an assignment. Gunis friend wins. And then Carmen and Guni fight back. And they go on an adventure. The rest is a mystery.
Review by Danae Rhiannon Houston
Age !0years old