01/01/05- So the truck not only has lighter rims but bigger ones. It now has forged Centerline forged rims in 20 x 8.5" weighing in at 26 pounds. They are polished but are so shiny they look like chrome. The new tires are Pirelli Scorpions in 255/50-20. It has made a big difference in handling, breaking, and acceleration. That is, until the transmission started slipping. We are currently trying to solve this problem cause it might be ecu or the tranny. I also bought a carbon fiber dash kit I hope to be putting in soon. (Pictures of the truck with the new rims are coming soon)
08/09/04- Well the truck got its 48,000 miles service just recently. I did not switch to lighter rims, but the truck is about 1 inch lower due to a smaller tire size but still grips really well. I might finally upgrade the brakes with some powerslot roters and some carbontechnic pads from explorerexpress.com Just a few weeks ago the supercharger finally came out, but its $4300 plus install. Upside is it comes with an intake manifold, supercharger, cold air intake, custom chip, and everything else needed, and it takes less than 8 hrs to install. Otherwise, I would like to get an Optima red top battery, and maybe a panasonic in car flip down dvd player, that I can get for a relatively good deal, hopefully. Anyway, theres your update, enjoy it. Oh yea, p.s. I would also want to redo the interior with katzin two tone.
10/07/03-Well the truck is gonna have a few modification. In attempts to get it to handle and ride better I am switching from my monstorous 285-60-18 to 255-55-18. To offset these smaller tires I am gonna lower her 2 inches more hopefully. I would also like to switch to lighter rims and then upgrade the brakes. This will prepare her for the supercharger I would like to put on her in about 3 years. Hehe.
6/30/03- Before I gotta out of school we put a trailer hitch onto the Sport Trac so now it can hold 3-4 bikes. The Sporttrac is now even cooler and more useful than before.
Jaunuary 19th, I hit a rock on the 805 South onramp at Mira Mesa. Got the car back on the 31st. On Feduary 4th someone hit my truck while it was parked in the UCSD parking lot. I am the luckiest person ever!!
Yea!! I got my new sub enclosure on 11/23/02 Here are some pictures. I used my same Performance Teknique Amp, but I got a 10" image dynamics sub and it sounds really good.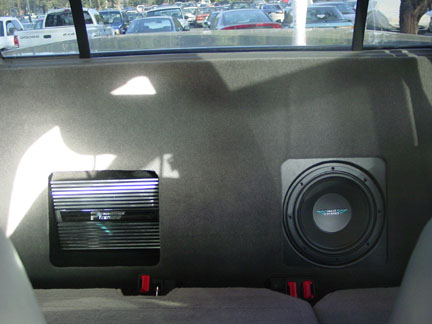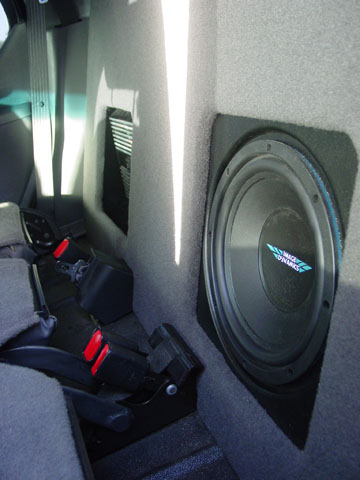 Click here to go to my Sport Trac picture album. Updated 9/16/02
What modification should I make to my truck next? Help me decide. Red means purchased. Post your thoughts in the forum. Some possible options:
NOS 75hp shot
Granatelli Mass Air Flow Sensor(11hp gains)
In dash LCD with PS2
Overhead LCD with PS2 ($1200)
Paint plastic trim black ($1400) 8/25/02
billet grill ($230+$60 for install) 8/25/02
high flow catlytic converter(5hp)(ordered)
y-pipe(5 hp) (ordered)
JBA ceramic hedders ($450+ install)(10hp)
Carbon fiber dash kit
2 Tone new interior seat covering.
Explorer Express X-charger supercharger ($3495+install)(85hp)
upgraded amp and sub ($310)
Upgrade to 20" MKW MK9's or Elite Barbs
custom fiberclass sub and amp encloser with new 10" sub( $750) 11/23/02