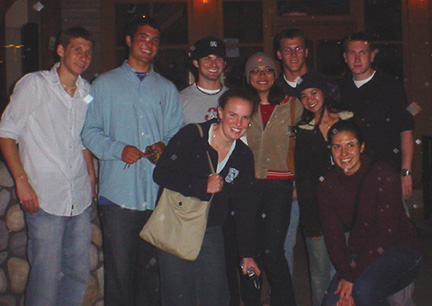 From L to R: Jared, Bobby, Eric, Carrie, Christia, Kellen, Dana, Kelle, and me.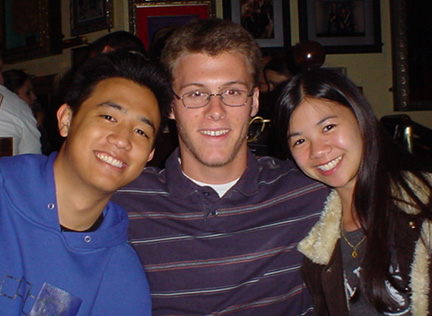 George, Kellen, And Dana so close...together!!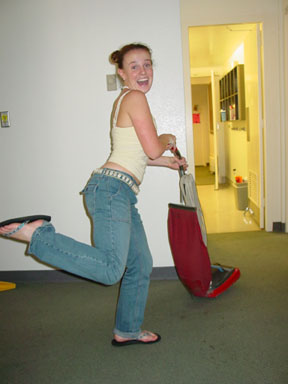 Carrie loves to vacuum and it shows.
We had dinner before the winter semi-formal at CPK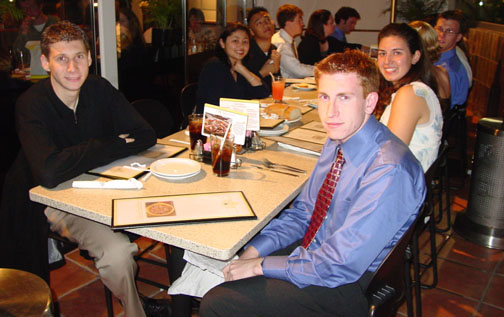 Jared on the left, Kelle and I on the right. No funny caption, oh well.
This nice little group picture was taken 10/05/02
From left to right: Thanh, Jade, Karen, Christa, and Otto.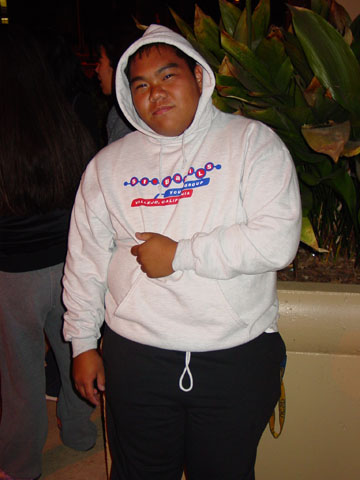 Here is Jade's friend and permanent fixture of our dorm, Manuel. Cookie man and attention whore.
Just your average group picture on Jade's bed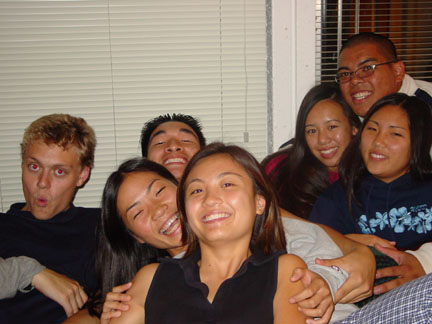 From left to right: Alex, Tin, James, Vickie, Vanessa, and Thanh.
People actually study, while some read car maga...
From left to right: Nick, Erika, Vikki, and James.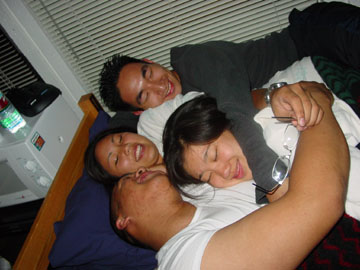 In college space is limited so we sleep 4 to a bed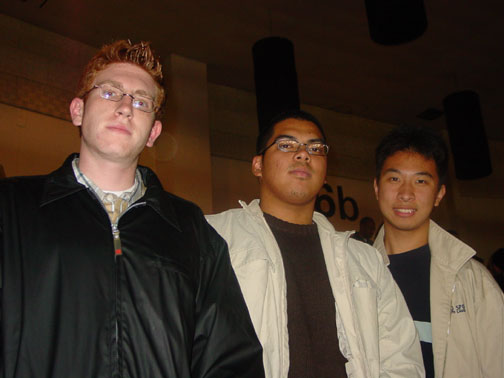 Here we are. Jade, Otto, and I at the Laker game.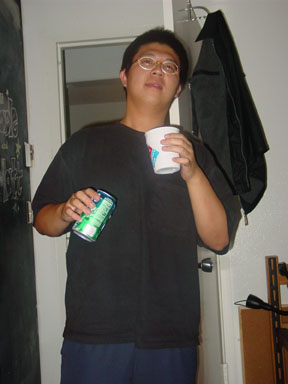 Eddie is crazy, he gets drunk on Sprite.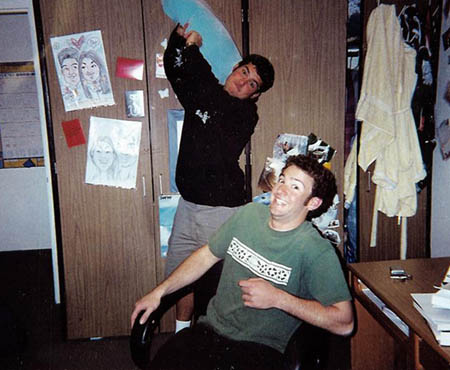 Joel look out....Bobby is behind yooooouuuuuu!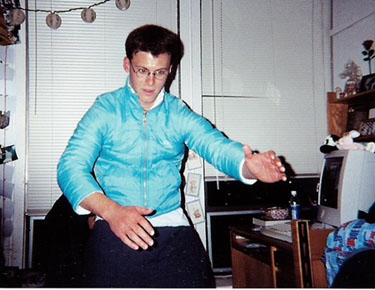 Here is Kellen in his specially made blue jacket.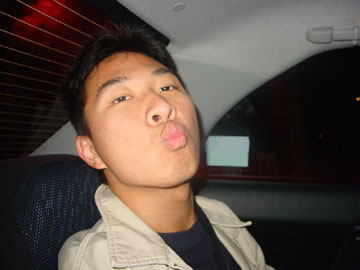 Otto is sincere in his love for Jade. This is how he shows it.
This is a picture of my twin with Tin.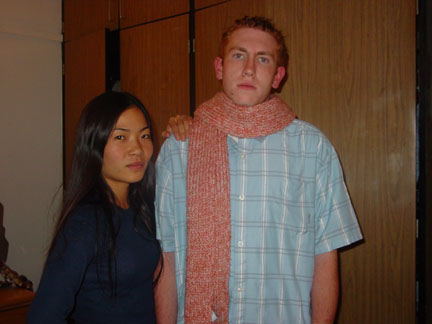 Thug Min(Matt Talbot with corn rows) does not smile for pictures, but he does wear pink scarves.
These people are thugs.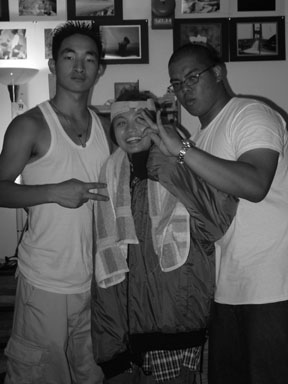 James, Vickie, and Jade are hella thugs.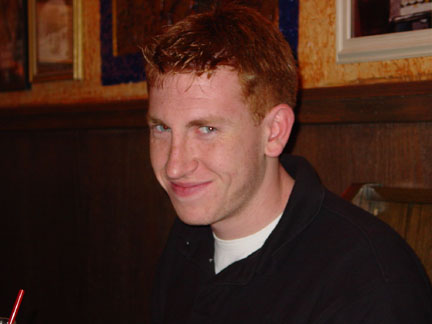 My evilest look yet.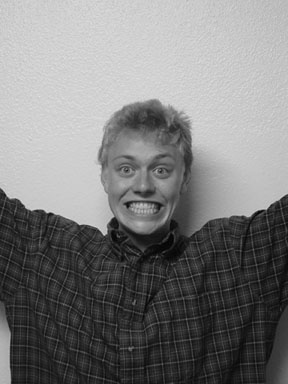 This picture pretty much sums up Alex's personality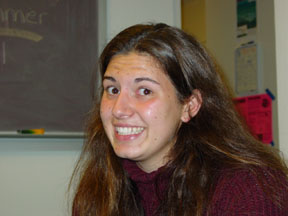 Hey Kelle.....dont give me that look ..I said dont give me that look!!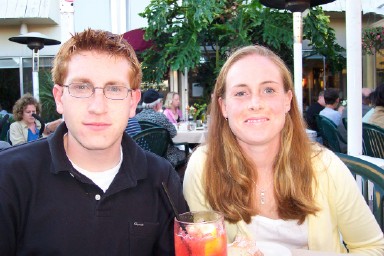 Carries sister, Kristen and I, at Cafe Cruz.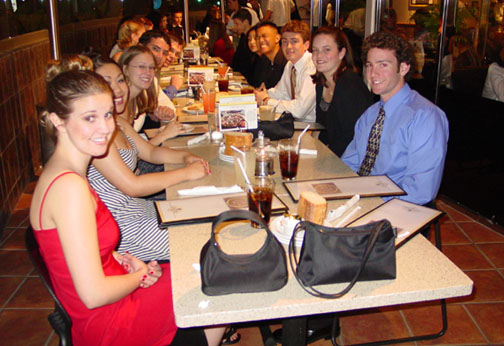 Here is the other end of the table. Julie, Nellan, Bobby on the left. Joel, Alex, and George on r.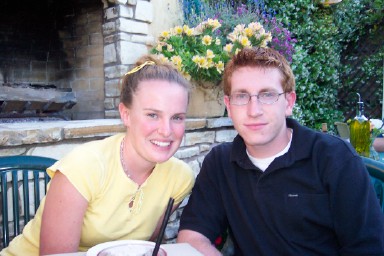 Here is Carrie and I at Cafe Cruz. I enjoy this picture because Carrie does.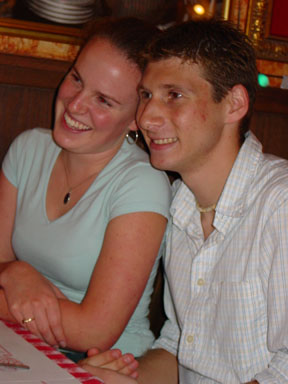 What a cute couple...goodluck you two!!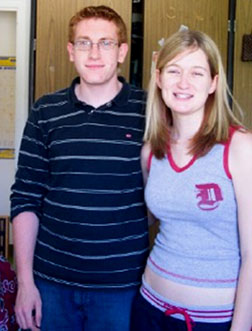 Here is me and Emma, Carrie's friend from England.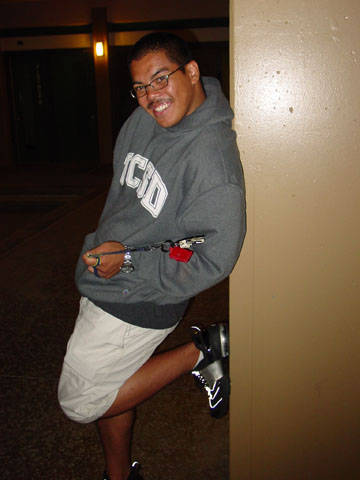 Here is my roomate Jade. He may look cool, but he is not. j/k
I can help you with your math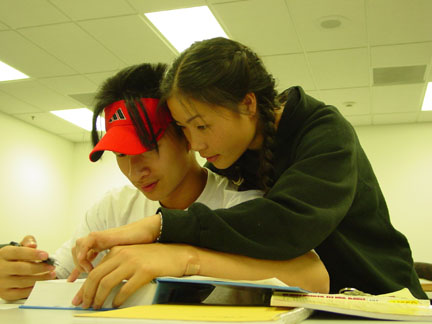 Tin helps James with his math hw in clics.
Here at UCSD our students dont read papers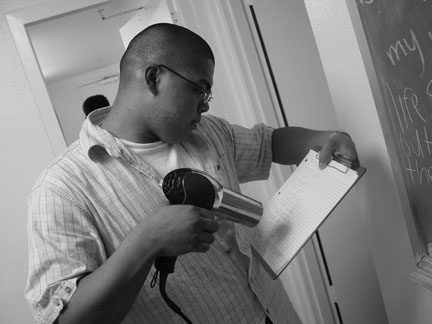 They absorb them with blow dryers
Just your avergae group picture of four girls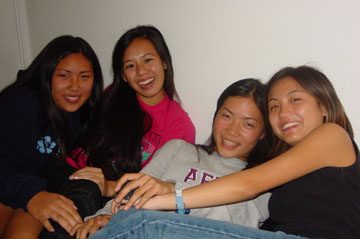 on Matt's bed. Oh wait, I'm Matt. Sweet!! L to R: Thanh, Vanessa, Tin, and Vickie.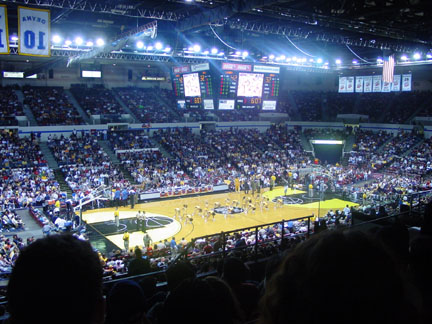 Just to prove we were a the Laker game, here is a picture in the stadium.
From left to right: Vanessa, Mai, Tin, and Jade.
This picture was taken at the cliffs on the night
of the meteor shower. From left to right: Kat, Kelle, and Carrie.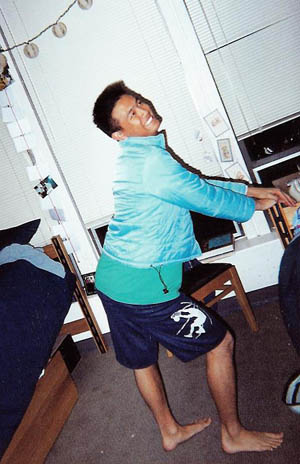 Here is George in his specially made blue jacket.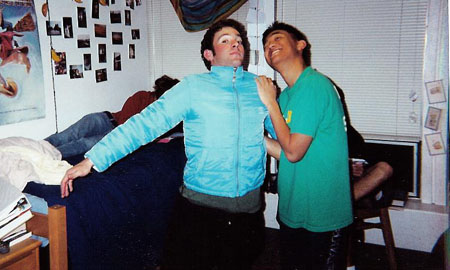 Here is Joel in his blue jacket, and together they are The League Of Extraordinary Homosexuals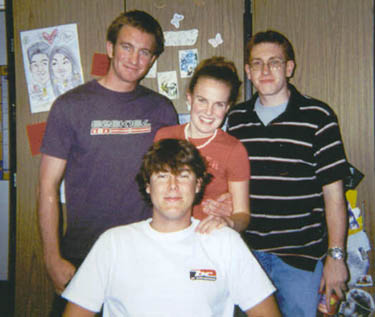 From left to right: Matt, Brandon, Carrie, and another Matt, one inferior to the previous.
Here is a picture of Richard and Sarah. They are just friends. While Danny is nothing to her.
This is Vikki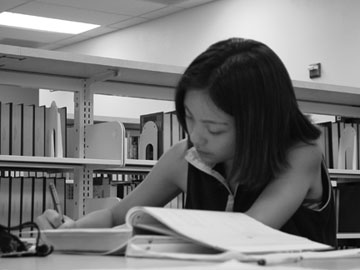 She reminds me of this one girl from Final Fantasy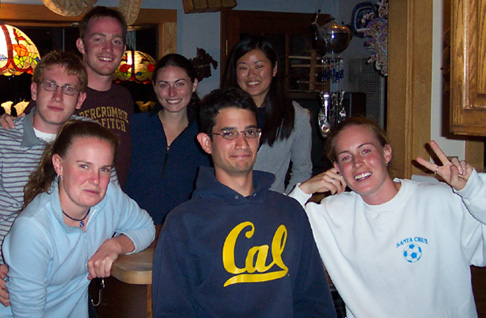 Heres the big group, from L to R: Me, Carrie, Daven, Sarah, Dan, Leslie, and Kristen.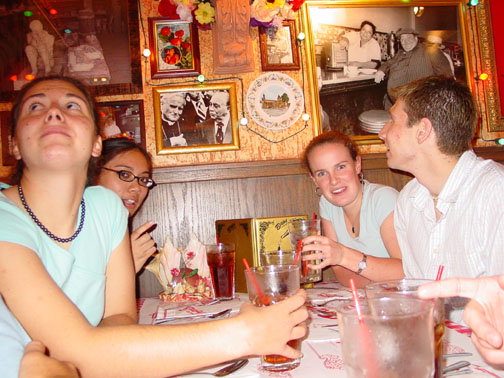 Ok..on the count of three everyone look at something different...good job guys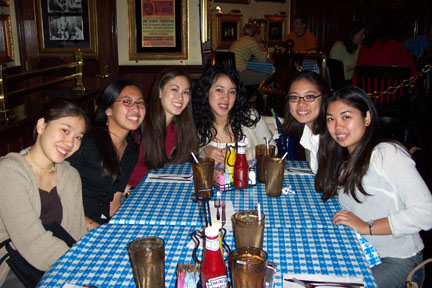 The girls at our floor dinner from L to R: Karen, Colleen, Allison, Mai, Christia, and Kat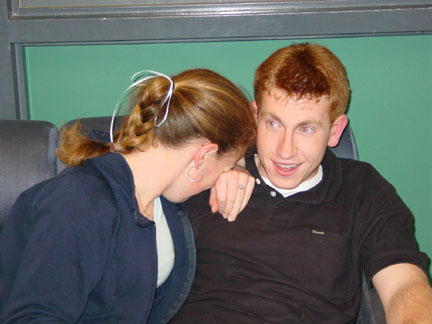 Carrie gets so mad when I dont take her crying seriously.
Poor Kellen just realized his drink was a Pepsi, and not a Coke.
Here is Jared and I, chillin.
Our entire suite is in this picture.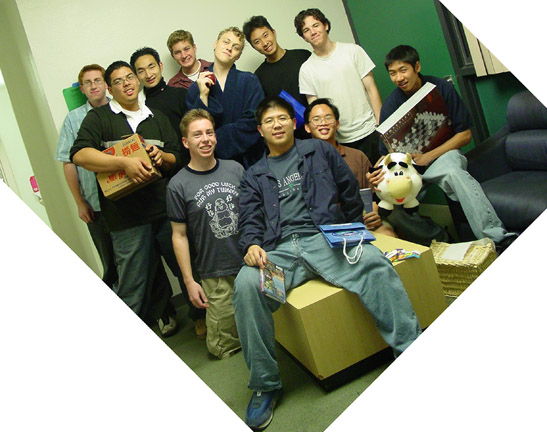 From left to right: Me, Jade, James, Eric, Sean, Alex, Eddie, Otto, Steven, Evan, and John.

This is a panaromic picture of my dorm room on the last day..Argo 213..goodbye.
Indoor Soccer Team: Argo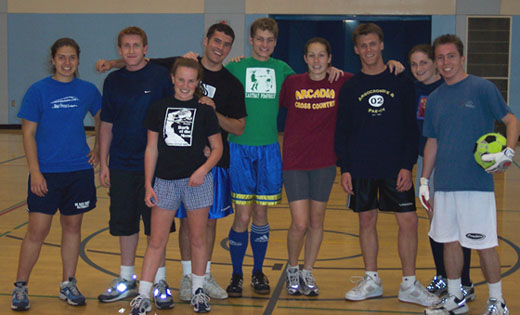 L to R: Kelle, me, Carrie, Bobby, Sean, Jan, Kellen, Emily, and Eric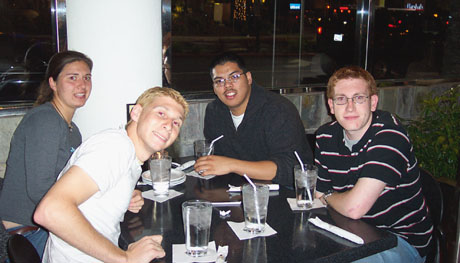 CPK on my birthday. L to R: Kelle, Jared, Jade, and I. Carrie was taking the picture.
Here are my suite mates and I. This was taken abo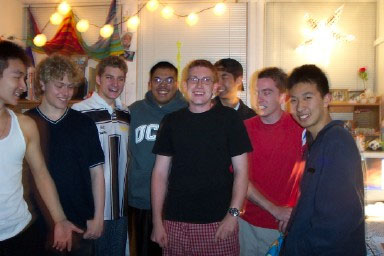 L to R: James, Alex, Sean, Jade, me, John, Eric, and Otto.
Carrie is gonna be mad at me for putting this picture on, but she may never know.
Same goes for this one.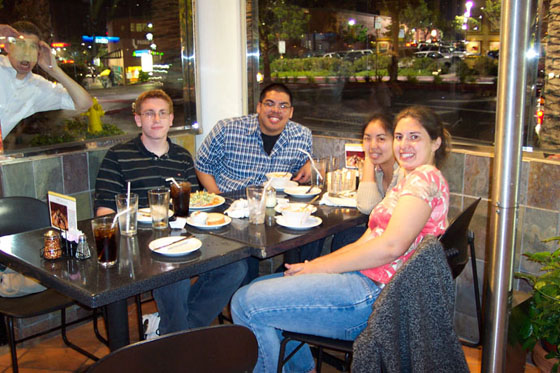 The gang at CPK. From left to right: Jared, me, Jade, Kat, and Kelle
Here is a picture from my trip to hell. I will never forget those crazy nights.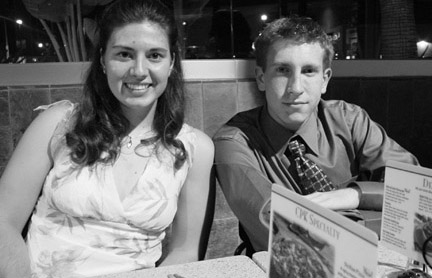 Kelle and I, in black and white. O so dramatic...well not really.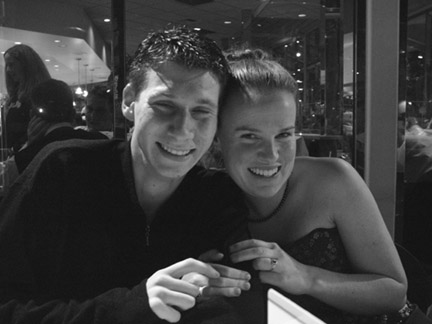 Jared and Carrie in black and white at CPK, having fun.