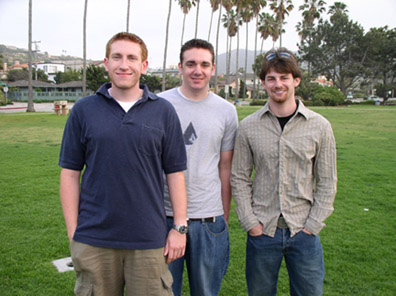 Just three guys, standing in a picture, on someones birthday. L to R: Me, Aaron, and Eric.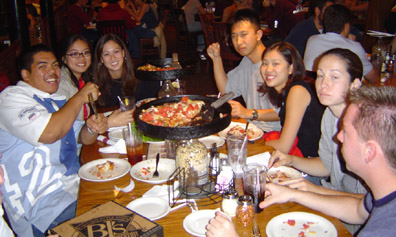 From L to R: Jade, Christia, Allison, Otto, Karen, Jan, and Erik. Too bad Jan got sick.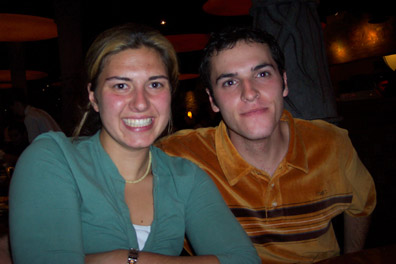 Yo Yo, respeck to Kelle and Joe up in the PF Changy. Booyashaaka.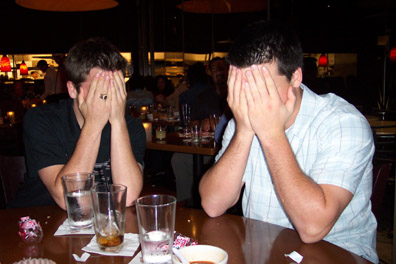 Not all guys are manly enough to play peek-a-boo. Brad and Vance are.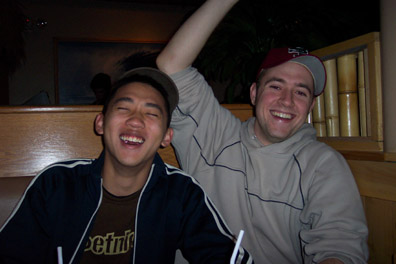 Jeff never saw Alex's armpit deathlock coming. Poor bastard.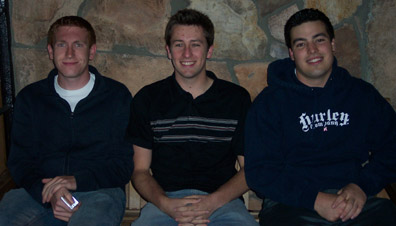 3 guys on the bench. If you dont know their names, go back and read some other captions, biatch.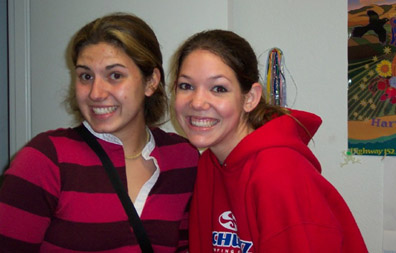 I think it was taken after studying. And look how happy Kelle and Laura look.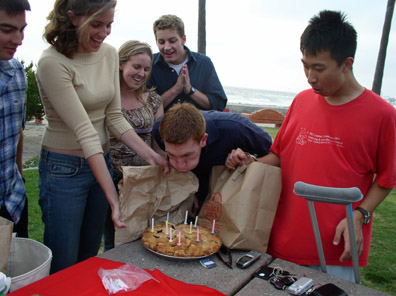 Everyone was happy to see that I could still blow out the candles despite a case of the black lung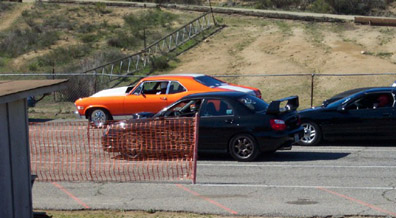 I won this race, at the 60ft mark. Unfortunately after that, he ran a 11.4 and I ran a 13.6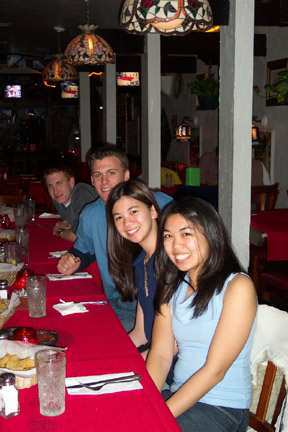 Please line up in order of masculinity, from least to most. L to R: Me, Kellen, Dana, Kat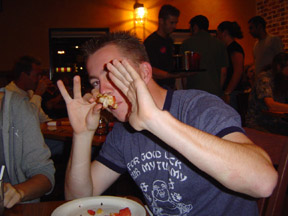 Erik is such a shy guy. He doesn't like pictures.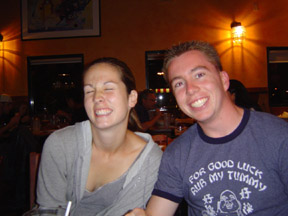 Alright, the thing I said about Erik being shy was bs, sorry. At least Jan is shy.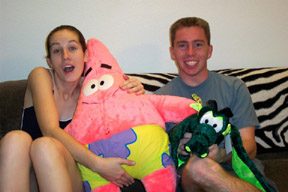 Oh shit. I give up. They both love the camera.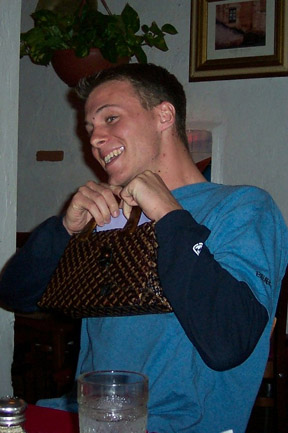 Kellen stole Carrie's purse, but then all he could do was pose with it.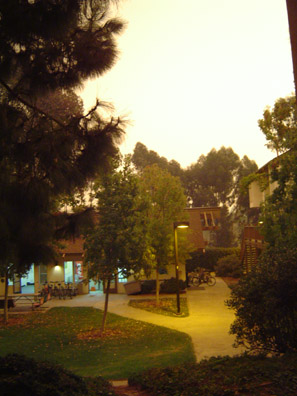 No joke here. This is what PC looked like during the fires, so dark. It was like being on Mars.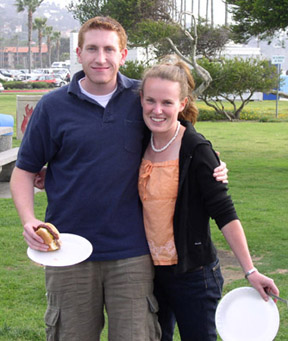 Matt: "Hey Carrie, you bbq, and I will eat it." Carrie: "Best plan ever, I will hug you for it."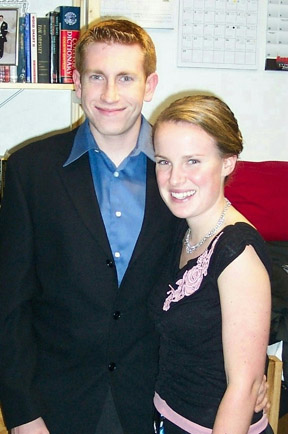 Here is Carrie and I all ready to go to the San Diego Magazine party, which was awesome.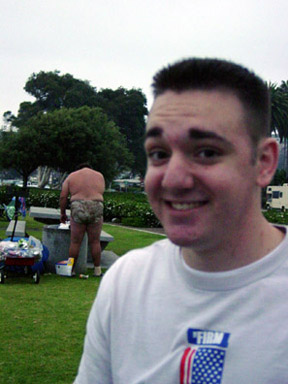 Just a normal picture of a guy, with a huge bum in a man diaper in the background.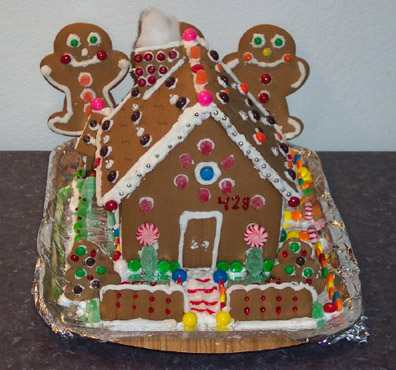 Yes, in case your wondering, it is a gingerbread house, and yes, Carrie and I made.
We went to an Island for Sean's b-day.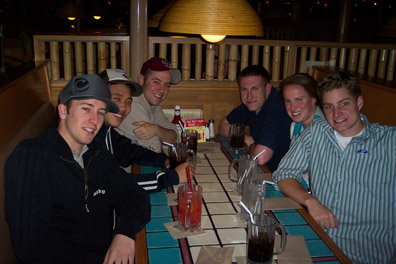 Oh wait, its was just Islands. L to R: Brad, Jeff, Alex, me, Carrie, and Sean.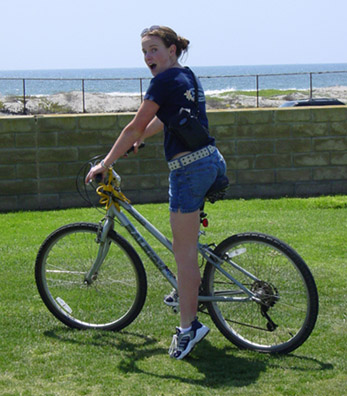 Carrie was so surprised to learn she still knew how to ride a bike. Good job babe.
Thanks again to all who came to my bday.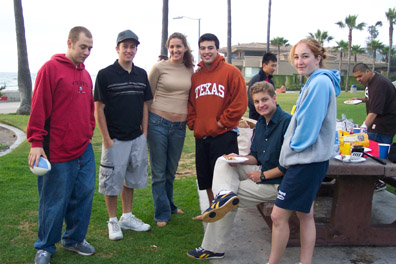 From L to R: Alex, Brad, Megan, Vance, Otto, Sean, Katie, and Jade.
The June BBQ crew.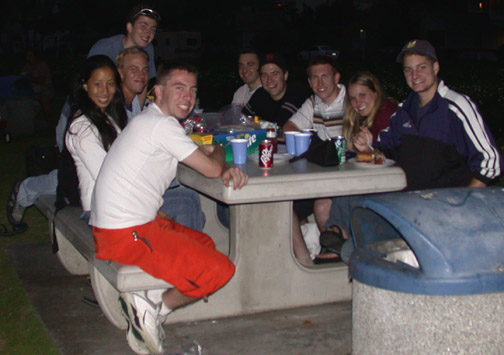 From L to R: Sharil, Shane, Alex, Erik, Aaron, Alex, me, Julie and Sean. Carrie isbehind the camera
I think this is how Carrie sees me. Looking up.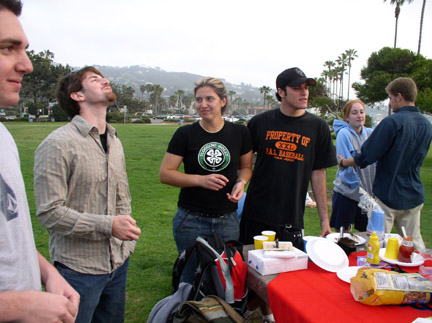 Aaron likes pics of his side profile, Kelle demands Erik to look up, and Sean tazered Katie. Sweet!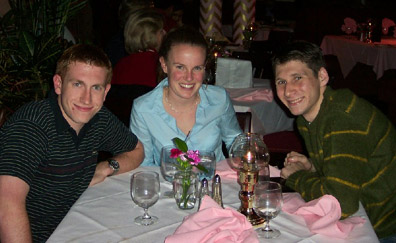 Wait, if Carrie is not taking the picture, who is? Ahhhhh!!